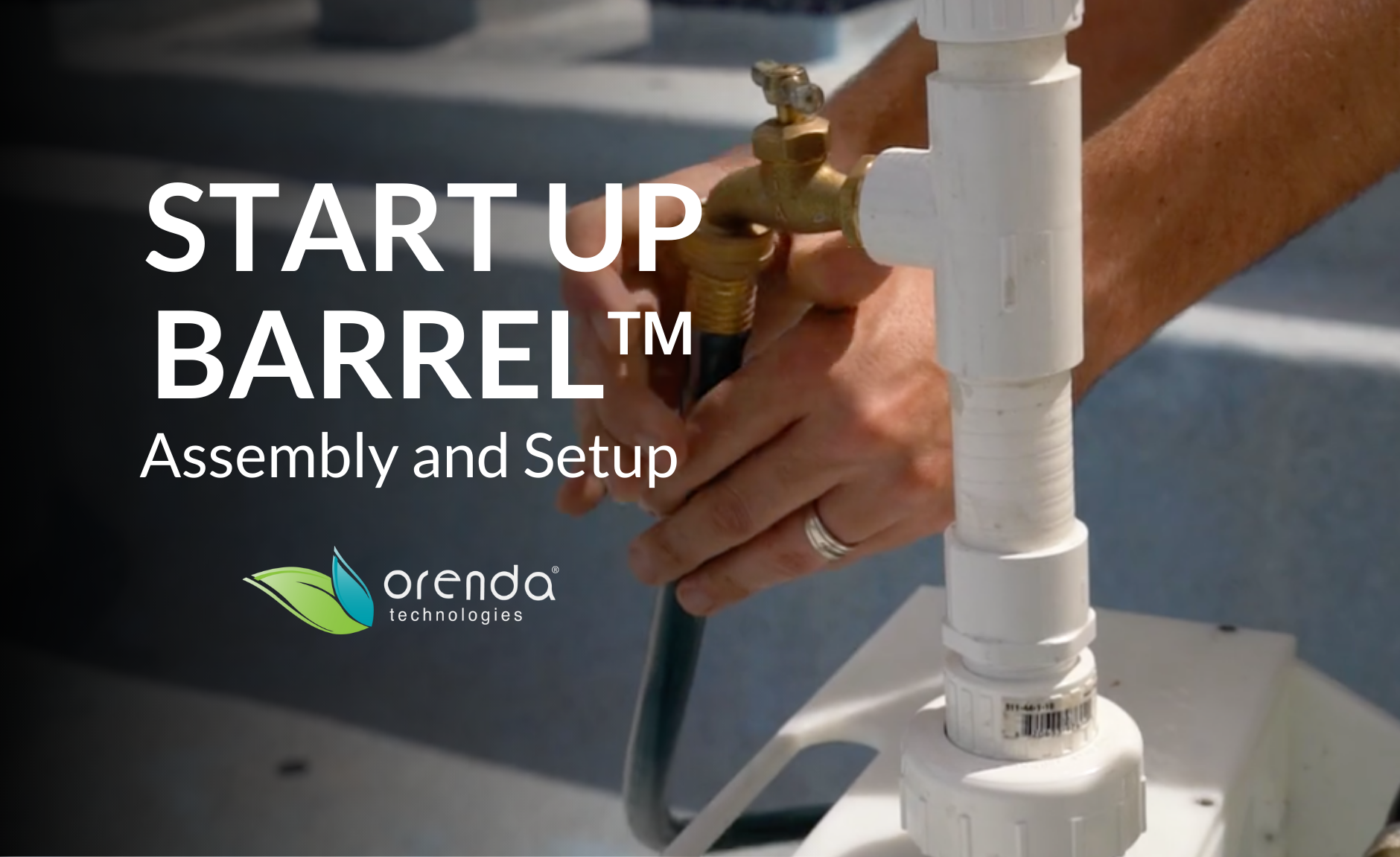 The Orenda Startup Barrel™
Components and Assembly
Startup Barrel™ Parts List (PDF)
Note: We have discontinued the Platform (ORE-50-10301). We now only offer the 55 and 30-gallon Startup Barrels with fittings.
---

Overview
This procedure only covers how to set up the Orenda Startup Barrel™. Click here for the step-by-step Orenda Startup™ procedure.
The Orenda Startup Barrel™ is a 55 or 30-gallon LDPE plastic barrel. It allows you to pre-dissolve and chelate more than 50 pounds of calcium chloride at one time. This pre-treated water overflows down a vacuum hose
simultaneously
with untreated tap water.
This procedure outlines how to assemble the barrel with the included fittings kit(s). It also lists items
not
included.
Related: How to Implement the Orenda Program
What's included
Included with the Startup Barrel Kit (no platform) ORE-50-1030
55 or 30-gallon LDPE barrel (and lid)
Basic fittings kit

3/4" brass spigot
3/4" to 1" threaded bushing
1" male threaded 90º to 1" female slip
1.5" male threaded plug
1.5" male threaded barbed 90ª
Not included:
Waterproofing (teflon) tape
1.5" pool vacuum hose
2" hose clamp
1" PVC pipe (cut to size to insert into 90º slip inside barrel)
Clean garden hose
Plastic tarp
Cloth or sock
Tape
Empty bottle (float)
Startup chemicals
Tools and other supplies
We strongly recommend having a pair of channel locks able to unscrew the 1.5" drain plug at the bottom of the barrel when the startup is complete. Also, to tighten the hose clamp that secures the vacuum hose to the barbed fitting, you need a screwdriver or socket wrench.

Assembly
We suggest assembling the fittings prior to going to the job site. Make sure you have a complete kit. For all threaded connections, use waterproofing (teflon) tape.
The 1.5" barbed 90º threads into the 1.5" hole at the top of the barrel, on the outside of the barrel.
The 1.5" plug threads into the hole at the bottom of the barrel.
The 1" 90º to female slip threads into the top 1" hole inside the barrel, facing the slip down.
The 1" threaded hole at the top of the barrel connects to:

The brass spigot + adapter bushing
For setup and use instructions, read our startup procedure page.
More Questions?
866-763-4269